Copyright by Marta Pyrchala-Zarzycka and Astro Salus Education Ltd. Please, do not copy!
Music therapy - pleasent way towards your health
You are here:
Home
>
Articles
>
Music therapy
This text is an excerpt from my course "Relaxation techniques and stress management"
Music therapy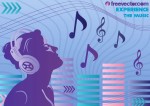 Music accompanies humans since the dawn of history. It has always been part of major celebrations, it was used to drive away demons and to drive oneself to a state of higher consciousness. Many people say that music is their whole life.
Certain pieces of music can also be used in the treatment of neuroses and psychosomatic diseases.

Read more about stress and health

Music was used in teatments since a long time ago. For example, the ancient physicians noted positive effects of music in cases of bites by poisonous snakes (Tadeusz Natanson, "Introduction to the Study of Music Therapy").
The Bible says that Saul was healed from depression thanks to David playing the harp.

Read more about simple ways to relax

Philosophers, Pythagoras and Teorfast, dealt with the influence of music on human psychophysical health. Gallus used the music in the treatment of sciatica and epilepsy, and the doctor d'Artois, who treated a French duchess d'Artois recommended, as a part of the therapy an eight-day long listening to the harp.

Music was used to mitigate pain, for example the French treasurer d'Autriyal claimed that only music reduced pain from his sore limbs, and Roger felt that listening to music calms him down.

Read about stress and pregnancy

Lieutaud treated cases of insomnia with music and Kircher - grade fever and pain after amputation. A positive impact of music to the human spirit has been noticed. For example Shilleto and London (1893) wrote that music removes sorrow, increases the willingness to work, thus increases its efficiency, and also calms one down, has a hypnotic effect. Modern research confirms the positive effect of certain pieces of music on the human organism.


If you are interested in the topic of influence of your mind on your health, you might be interested in our online courses:
Research related to the positive impact of music on the nervous system and psychosomatic symptoms
1. Jaedicke (1954), Teirich (1958), Wendt (1958), Giltay (1958), Stokvis (1958), Enigelsmann (1960), Pontvik (1962), Sutermeinsterg (1962), Szwabe and TÖGEL (1964), Kohler (1966 ) report the results of their research, according to which music therapy helps in the treatment of neuroses and other functional disorders.
2. Jaedicke (1960) and Blanke (1961) carry out research on the use of music therapy in psychosomatic disorders. Blanke notes the improvement of condition in connection with such diseases as asthma, high blood pressure, cardiac arrhythmia, coronary artery disorder, pain in peptic ulcer disease.
3. Blanke (1960), Teirich (1960), Priester (1962) claim that music decreases the pain
Examples of music conducive to relaxation
(source: Christoph Schwabe "Treatment of neuroses music")
Beethoven: Romance for Violin and Orchestra in F major, op.50,
Mendelssohn: Violin Concerto in E minor, part 2 and 3,
Smetana: The Moldau "from the symphonic poem" My Homeland "
Mozart: Symphony in A major (Jupiter), KW 551, Wed. 2,
Mozart: Symphony in A major, KW 201, part 2,
Mozart: Serenade in G major Sine kleine Nachtmusik "​​, Mon. 2,
Beethoven: Piano Sonata, Appassionata ", op.57 part 2 and 3,
Mozart: Piano Sonata in A major, KW 321, theme and variations 1-5.
Some examples of cure of psychosomatic diseases using music therapy
(source: Christoph Schwabe "Treatment of neuroses music"):
1. A woman, aged 29, headaches, nausea, vomiting, sleeping disorders, mood swings. Removing the symptoms took only nine meetings of music therapy.
2. A man, aged 30, cardiac neurosis, sleep disturbances, shortness of breath, dizziness: 13 music therapy sessions.
3. A man, aged 31, pedantic, ambitious, headaches, sleep disturbances, difficulty with concentration, memory problems, mood disorders. Treatment took several months.
4. A man, aged 29, quarrelsome, due to the numerous and persistent symptoms included in the group of disabled. He suffered from diarrhoea, constipation, bloated feeling, weakness, fatigue, shallow sleep, obsessions and poor concentration. Music therapy freed him from these symptoms and he could return to job of a teacher.
5. A man, aged 45. Diagnosis: chronic neurosis, metabolic disorders, low blood pressure. Recovered after 112 days of the therapy.